2 Sides to Vaccines (youtube video)
Remember, you can always decide to vaccinate, but you can NEVER unvaccinated.  So, before you make this very important and difficult decision, just ask yourself and your pediatrician these 10 questions from the book "Indifference:  Why Our Children Are So Sick".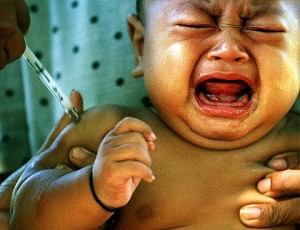 10 Questions to ponder (and ask your pediatrician)
Why is there such a hysteria over bacteria and viruses, especially since there are more bacteria in our bodies than there are cells and bacteria and viruses have been around before humans inhabited the earth, and will be around long after we are gone? Is it really the germs that are the problem? Do we really think we can outsmart and kill off bacterial and viral infections without just causing them to mutate, adapt and get stronger?

If it is known that vaccines weaken and disrupt the balance of the immune system leaving it weak and susceptible to chronic dis-ease, than why isn't the integrity of the immune system more closely evaluated in each individual? Why do we have a shotgun, one size fits all vaccine approach?

If vaccines are considered safe, than why is there a separate vaccine court, Vaccine Injury Compensation Program (VICP), set up to compensate for vaccine injury, which is NOT subject to the tort system and which has compensated for conditions such as autism, encephalitis, Guillain-Barre Syndrome (GBS), Kleine-Levin Syndrome, transverse myelitis and death? Note: According to the U.S. Department of Health Resources and Services Administration (HRSA), since the introduction of this program in 1988-89, over $3 BILLION has been paid out to victims.

If vaccines are considered effective, than why do recent outbreaks include vaccinated children as the majority of those being affected?

If evidence-based research (EBR) and controlled clinical trials  (CCT) are the backbone and method of operation of the medical model, than why have there been NO third party EBR or CCT done on vaccines? Why has there never been a regulated study looking at vaccinated vs. unvaccinated children with the current vaccine schedule?

Because it is widely known, according to the World Health Organization's (WHO) statistics, that sanitation, hygiene, nutrition, plumbing and refrigeration and NOT vaccines played a major role in the decline of infectious disease, then why are more and more vaccines added to the vaccine schedule every year?

Why does a newborn get the Hepatitis B vaccine when the mother tests negative for the virus? Why does a three-pound premie get the same vaccine as an 11-pound full-term baby?  Why aren't individual vaccines and the amount of vaccines given during a single visit regulated based on the individual and what their immune system can handle?  

Why have the vaccines and the ingredients that are used NOT been studied in the way that they are administered? Certain vaccines and a few ingredients have been looked at, but not in the way that they are given. (Multiple injections are given during a single visit and a combination of hundreds of heavy metals, adjutants, preservatives and proteins are also injected at one time.)

If vaccines are neurotoxic, than why are they given to children before age two, when their nervous systems are still developing and their immune systems are also in a state of development?  

If vaccines make so much sense, then why are vaccines being forced on our population? Why are we not being given full informed consent (list of ALL ingredients, list of all side effects, safety and efficacy of ALL vaccines)? Why are unvaccinated children being kicked out of pediatric clinics? Why are our rights to choose to vaccinate or not, trying to be taken away? 
Much Love and Good Vibes~
Dr. Derek