Sports Chiropractic in Asheville
Top 5 Reasons Chiropractic Care Can Benefit Athletes & Sports Injuries
As a former professional and college soccer player I know how important it was to me to play the game that I loved at a high level. It not only cleared my mind, but it enhanced and strengthened my heart, bones, muscles and joints and reduced stress, among many other benefits.
Unfortunately, sports injuries are a part of the game, and if you are anything like me, a speedy recovery is a must.
NEW PATIENTS »

Common Injuries
The most common areas of injury are the ankles, knees, shoulders, elbows and the spine. Keep in mind, when there is an injury caused by a physical stressor, the alignment and biomechanics of the spine and body can easily be altered which results in weakness, instability and an inability to heal quickly and correctly.
At One Love Chiropractic we can evaluate the integrity of the spine and the joints of the extremities to make sure that everything is in proper alignment and moving optimally so that healing, strength and full recovery can take place as easily and as quickly as possible.
I Can Relate and Empathize
As an athlete I also suffered from many ankle and knee injuries, sprained wrists, constant low back pain, headaches (from multiple concussions) and upper back discomfort. Without chiropractic care, I would have been a shell of the player that I turned out to be. I wouldn't have been able to heal correctly and I would have had to play through a lot of pain and discomfort which would have hindered my performance.
I contribute chiropractic care and a wellness based lifestyle to allow me to play at a high level and to win many team and individual accolades such playing in a Final Four, winning multiple State and Regional Championships and being named a 1st Team NCAA All-American and also named to the All Wisconsin (WIAC) Centennial Soccer Team.
Now as a coach and a parent I can also take a step back from the game and truly see how physically and mentally demanding sports in general can be. Without a wellness based philosophical approach to playing sports, in this day and age, children do not stand a chance.
When you think about what separates the winner from the loser, one stroke, one goal, one field goal or one second; being at the top of your game and functioning optimally is the difference between coming in first or finishing last.
The top 3 sports injuries that chiropractic can help with: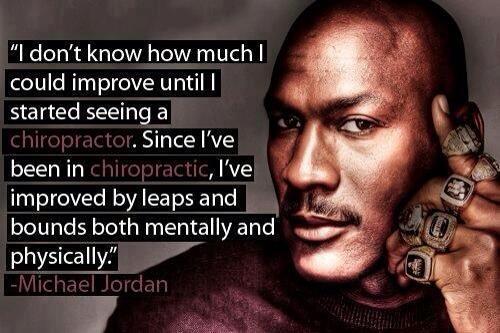 Chronic Sprains and Strains of the ankles, hips, knees, wrists, elbows, shoulders, mid back, low back and neck.
Concussions that leads to headaches, migraines, dizziness, coordination issues, neck pain, upper back pain, torticollis, visual disturbances and other neurological symptoms according to Chiropractic and Concussion Research
Tendonitis in the ankles, knees, wrists, elbows and shoulders.
Don't just take my word for it, take a look at Michael Jordan has to say.
Get Started Today
Wondering how chiropractic might help you? Contact us today.
CONTACT US »


Sports Chiropractic Asheville NC | (828) 505-1584